Wanneroo Business Expo 2022 – 11th August
July 14, 2022
We are pleased to announce we are exhibiting at Wanneroo Business Expo 2022 and we would love to see you there!
Wanneroo Business Association, in partnership with the City of Wanneroo, is heading to The Marina Mindarie for a full day of business networking, promotion, and connections and there is $500 up for grabs to spend with an exhibitor of your choice, courtesy of Wanneroo Business Association.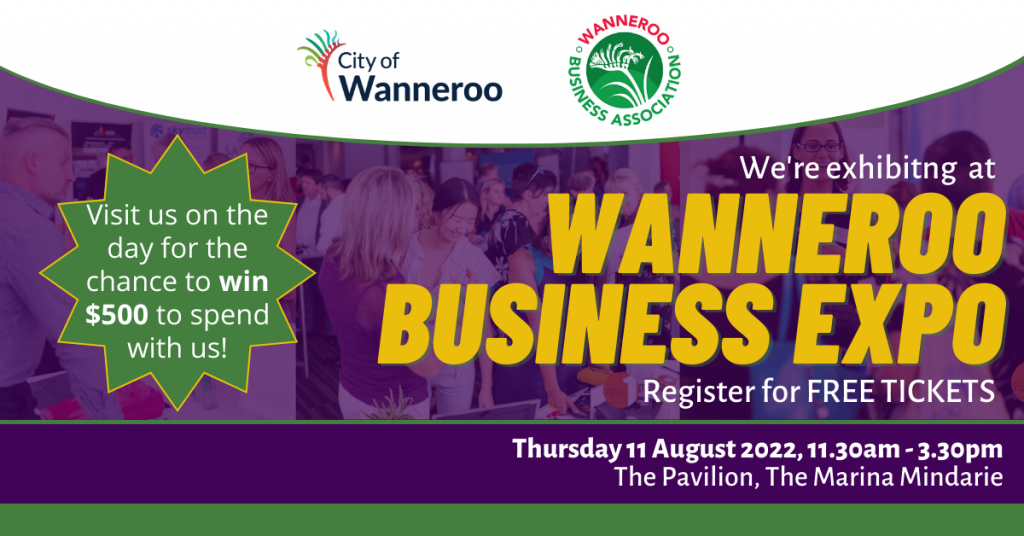 With FREE ENTRY, more exhibitors, a unique waterfront venue, and plenty of businesses to meet, we will be waiting to see you on the day.
Wanneroo Business Expo 2022 Event Info:
Thursday 11 August, Free Entry – 11.30 am – 3.30 pm
The Pavilion, The Marina Mindarie, 33 Ocean Falls Boulevard, Mindarie
Event Schedule:
11.30 am – 3.30 pm FREE EXPO ENTRY
Registrations are essential for FREE ENTRY
Choose a time to attend and grab your ticket to chat with local exhibitors, mingle with local business owners, and explore local products and services. Alongside the chance to enter into a draw to win $500 to spend with an exhibitor of your choice, a free limited light morning, lunch, and afternoon tea will also be on offer for attendees.
4.00 pm onwards – FREE Expo Closing Party
Join us from 4.00 pm at The Boat as we relax and socialise after a big day of networking. Join local business owners, City of Wanneroo representatives, and exhibitors as we pack down and network into the evening.
Event entry is free, and drinks and nibbles are to be purchased from the bar.
Questions?
Call Wanneroo Business Association on 08 9206 3888 or email admin@wba.asn.au