EPIC Feedback
Our aim is to deliver EPIC service to our clients in order for them to succeed.
To measure how well we are doing, we benchmark ourselves with the best customer service from around the world. To do this we are working with 'The WOW! Awards'.
We chose this programme because 'The WOW! Awards' is the only independent international awards process for great customer service based entirely on customer compliments.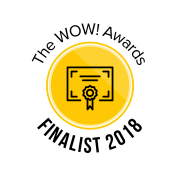 To show it is working Liberty have been selected as a finalist for 2018 in the 'Best Customer Feedback Strategy' category.
For it to continue working, we would like you to let us know when a member of the Liberty team (also known as Liberators) has delivered on our EPIC values.
Excellence, Positivity, Intuitiveness and Communicativeness
Our values are the benchmark by which we deliver exceptional client service. It is our competitive advantage.
We believe that by delivering exceptional service our clients are able to focus on what they do best.
These are the four service values that underpin all others.
Excellence is defined as 'the quality of being outstanding or extremely good', which means 'fine' or 'ok' are not acceptable.
Positivity is defined as 'the practice of being or tendency to be positive or optimistic in attitude' and requires a can-do outlook.
Intuitiveness is defined as 'having the ability to know or understand things without any proof or evidence' and requires proactively predicting client needs.
Communicativeness is defined as 'the quality of being willing, eager, or able to talk or impart information'. It requires listening empathetically, properly understanding and being prepared to manage client expectations.
To give feedback and nominate a Liberator please consider which EPIC value they met.
Did they bring Excellence in some way?
Did they display Positivity in some way?
Did they show Intuitiveness in some way
Did they deliver Communicativeness in some way?
The nomination should describe something that made you think / feel / say 'Wow', that was great customer service.
It must be about a genuine customer service experience – something that has happened to you personally, which has impressed you and that happened recently.
For example
Yesterday I asked Jackie to find out do some desk research for me.

Not only did she complete the instruction quicker than I anticipated, but the quality of the work was excellent.

She asked the right questions when I was vague, and thought beyond what I anticipated to deliver a better result than I expected.

The xls spreadsheet of data was professionally presented and will help our business beyond what we had the resources to accomplish at that time.
You cannot nominate a staff member for an award if you have personal involvement with them (i.e. if they are a member of your family, or a close friend, for instance).
Please note this page is for positive feedback only. For any other feedback, please visit our Contact Us page.