Join The Happy Workplace Group
Liberty Flexible Workspaces are part of The Happy Workplace Group.
With our ambitious growth plans, we are always seeking intelligent, fun, articulate, well-presented, and energetic people to join our growing team.
Ideally, you will be able to demonstrate a history in a client-facing role and will have had some exposure to either hospitality, retail, and/or an office environment.
You will be a people person with big plans for the future and keen to join an exciting and growing business.
Liberty Client Experience Team
It is our Client Experience Team's skills, values, and passion that sets us apart from the competition.
Liberty is built on the attitude and commitment of this team. So it is no surprise that we are committed to attracting and retaining exceptional people who can deliver our promise to our clients.
The Client Experience Team are motivated to provide solutions to the challenges our clients face every day.
We have 4 Values that underpin how we operate, and each of them encourages positive behaviours:
1. Own Your Impact.
2. Deliver WOW!
3. Enjoy the Future.
4. Be Happy.
We firmly believe that it is our focus on Happiness that creates environments where our clients and our people love to be.
Before recruiting externally, we first look to see if we have any internal candidates who could be trained to do the role. Many of our team joined us at the start of their professional career and have risen through the ranks over a few years. So, ambitious people can expect to realise their growth and development potential.
This approach means that you get great job satisfaction and professional development.
We promote a culture of openness and honesty and we like people that show real personality.
A Great Place To Work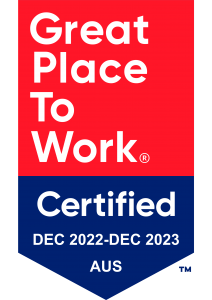 We have been officially recognised and certified as a great place to work. In December 2022 we engaged an independent global expert in workplace satisfaction called 'Great Place To Work' to conduct a survey of The Happy Workplace Group employees, resulting in 88% of employees say this is a great place to work, compared to only 56% of employees at a typical Australian company.
94% 'I'm proud to tell others I work here'
94% 'Management shows appreciation for good work and extra effort'
94% 'Everyone has an opportunity to get special recognition'
88% 'Management shows a sincere interest in me as a person, not just an employee'
88% 'My work has special meaning: this is not 'just a job"
Find out more by going to this link: https://greatplacetowork.com.au/gptwcertified/the-happy-workplace-group/
Recognition like this is proof that we're on track.
A Happy Place To Work
The performance-based reward structure includes a generous basic salary and performance bonuses based on results and actions.
But work is not all about money. It's about being happy.
"Happy employees, who are genuinely passionate about what they do and where they work, are your best brand ambassadors."
The Team at Liberty is precious to us. After all, they deliver hospitality-led services in our workspaces that clients know and love. The client experience starts with them.
We concluded long ago that if our team is happy, they will deliver a happy workplace for our clients.
We set ourselves the challenge of 'Making Work A Happy Place'.
Team events
We have committed to quarterly team events as a minimum.
Past events have included a great night at Pinot & Picasso, The Big Time Company Conference (with the Lord Mayor) and Dinner at HQ BarKitchen, and Christmas Dinner at Nobu.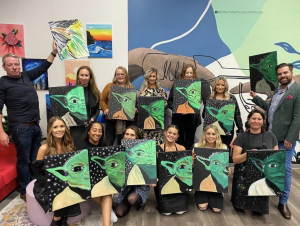 Flexi-Fridays
We have empowered our General Managers to share out early Friday getaways for their team on rotation. This will be subject to full staffing and only possible where client service levels will not be affected.
Full Colour Fridays
We've designed and printed the colourful 'Making Work A Happy Place' t-shirts and we are encouraging the team to wear them on Fridays.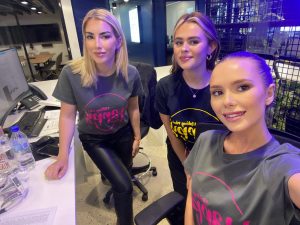 Wellbeing Support
To support our team's mental health, we have introduced 'Aunty Cindy' as a monthly resource for the team to access confidentially and free of charge.
Cindy has worked in Women's Health over the past 15 years, working clinically with women, men, couples, and their families. Having managed a therapeutic team for ten years, she brings compassion and warmth to her work in helping individuals and families develop an understanding of their emotional world.
The sessions with 'Aunty Cindy' are completely confidential and are provided with the sole purpose of supporting the team with whatever challenges they may be facing, personal or professional.
If you would like to know more please