The World's First Flexible Workspace 'Health-Coach-In-Residence'
October 24, 2019
Press Release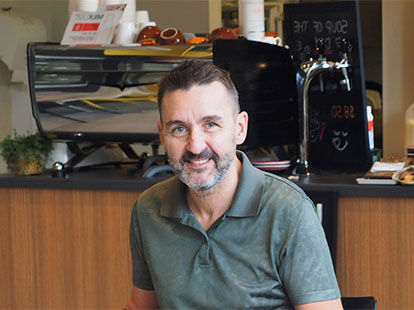 Today we announce the launch of, what is believed to be, the world's first in-house health coach service. Liberty's mission has always been to help businesses flourish and helping the individuals within those business flourish in health is a key part of delivering that.
Corporate wellness is increasingly important to organisations around the world. Businesses that use flexible workspaces are often missing the 'corporate wellness' support larger organisations deliver. Liberty now provide that opportunity.
Commenting on the initiative, Liberty CEO Jamie Vine said, "There are a few 'entrepreneurs-in-residence' in our industry, but with varying levels of success. We recently got involved with RUOK? the mental wellbeing charity, and the response from inside and outside the business was phenomenal. Businesses, and business-people are more and more attuned to the stress, sleep, and work-life balance that effects their short-term productivity and long-term risks for ill health. They're also used to the idea of coaching. So why not health. We think by providing this in-house health coach we can help clients that want to change their health trajectory and accelerate weight loss, increase energy, improve stress and sleep, enhance cognitive function and develop strength and stamina. And that can only benefit the businesses they work in."
The Health Coach service is being provided by Nick Eggleton (pictured above) of GeneLife Australia. GeneLife help high-achieving executives get healthy, they have the skills to help people quickly retake control of their health, lose weight and feel great.
GeneLife coaches transfer the required skills to the individual, give them the strategies they need to achieve their goals and to support them for as long as they need.
They do this through simple programmes involving sustainable long-term nutrition, exercise and lifestyle changes for both immediate health improvements and for long-term wellness.
Nick Eggleton commented, "As a business executive the wrong side of 40 I realised one day I was a little heavier than I'd like, more tired, less patient, less productive. My weight was hurting my long-term health, relationships or business ambitions, and making me anxious or unhappy. Many people like me tried dieting, hitting the gym, but all with limited success? I discovered the secrets and lost 38Kilos. I resolved to help more people like me feel these benefits. "
The GeneLife approach is centred on scientifically validated wellness principles. Principles that support our genetics with optimal nutrition, effective exercise, stress-reduction and balance in all aspects of life.
Generally, health coaches work with individuals to help them improve their health and then maintain a healthy lifestyle. This includes establishing dietary principles, safe exercise routines, and monitoring systems. The coach generally works one on one with clients or in small groups.
GeneLife will provide Liberty clients at all locations with free initial health audits and discounts on its programmes and events. Genelife will run a monthly workshop where clients of Liberty will get priority access and discounted rates.
If you want to contact Nick to arrange a meeting email him nick@genelife.com.au.
The first of those events (Primal Health 101) is scheduled for 14th November at the Liberty Training & Conference Centre at 197 St Georges Terrace.
Tickets can be found here. Liberty Clients receive a 33% discounted price of $50.
About GeneLife
GeneLife was established in Perth, Western Australia and by Nick Eggleton in 2019.
GeneLife has a mission to fight conventional wisdom of the 'health industry' with scientific, evidence based, and personalised methods to improve people's healthspan. To allow them to live longer and healthier lives.
Genelife's Health Coaches are Certified by the Primal Health Coach Institute in the USA. The Primal Health Coach Institute was founded by globally renowned author, and entrepreneur Mark Sisson.
Coaches undergo rigorous education and examination in order to certify, with regular recertification to ensure that their knowledge is absolutely up to date with current science.
Future Wellness Workshops & Seminar topics
Evolution & Genetics
Macronutrients: Fats, Proteins, Carbohydrates
Body Composition
Fuel partitioning
Ketosis and the ketogenic diet
The foods we should eat
The foods to avoid
Chronic Cardio
Aerobic v anaerobic
High Intensity v Low Intensity v Sprinting
Sleep
Play
Sunlight
Mindfulness
Learning
Toxins